Genuine Leather Baby Moccasins
Genuine leather Baby Moccasins are made by 100% quality genuine cow leather, suede leather, soft and comfortable, in variety colors and popular styles,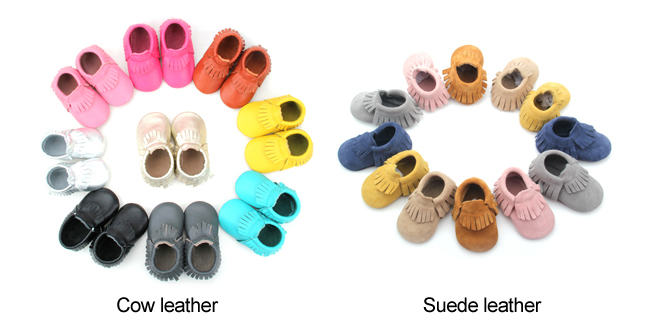 Genuine Leather Baby moccasins Sizes
Mostly sizes we make for baby moccasins shoes are in 0-6month, 6-12month, 12-18month, 18-24month, and we also use hard rubber sole for kids moccasins in larger sizes beyond 2 years old,

Genuine Leather Baby Moccasins Styles
Baby moccasins always come tassels(fringes) styles, bow styles, also printing your own customized patterns on baby moccasins are also available.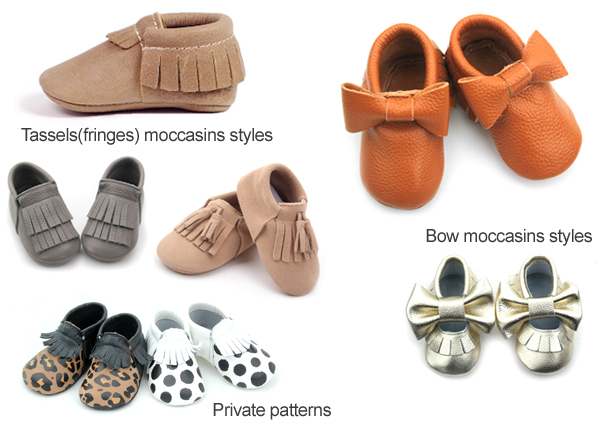 Genuine Leather Baby Moccasins Logo
Moreover, your OEM orders for baby moccasins are welcomed, our factory also provide logo printing & packing customizing service.

Genuine Leather Baby Moccasins Pass Customs Test
All leather we used for baby moccasins follow the requirement of US CPSIA policy, pass CUSTOMS TEST, Pb element less than 90ppm, safe and unharmful, eco-friendly.

Genuine Leather Baby Moccasins Bring Our Wishes
We trust that the baby moccasins we produce are as better as Freshly Picked, and we promise trying our best to help babies grow up well.