Tag: Drop shipping Baby shoes, baby products supplier, Baby Shoes China, Baby Sandals Factory, Baby Boots wholesale
How does drop shipping baby shoes work?
Drop ship means from baby shoes supplier to customers directly, but there is a middleman during their business,
This middleman play a role as third party, which is different from normal baby shoes wholesaler, he got catalog and prices list from supplier, then posted them on website. Customers visit his website and find something interesting, them buy it and pay to middleman.
When got the orders, middleman will ask his oversea suppliers to ship products to customers directly.
So in this case, the middleman do not need to purchase large amount of baby shoes disposable, and he even do not need much money and space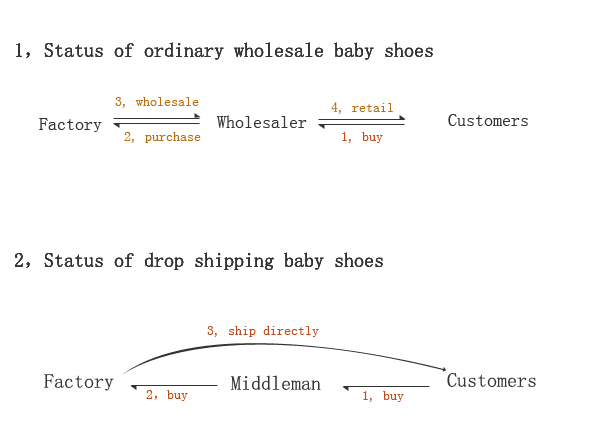 PS: Wholesale and drop shipping baby shoes.
Difference between drop shipping baby shoes and wholesale baby shoes
1, Prices,
-- Drop shipping is always for only several pairs of baby shoes only, sometimes mix styles and colors, but the total amount will not be large,
In this case, the prices will not be as cheap as wholesaling in larger quantity, if we provide same prices for them, we are braking markets' rules, and it is unfair to those customers who buy large amount.
-- Wholesaling prices are always cheaper than drop shipping.
2, Lead time,
--Drop shipping baby shoes are always stock shoes, so the lead time is quick. But for stock shoes, it is unable to be added logo, and can be sold only several colors existing.
--Wholesale baby shoes is different, it cost more time to producing leather, purchase leather, cut leather, then make shoes, usually 25 to 30 days, but these baby shoes can be added more customized elements as well, multi colors, company logo, cute patterns, and beautiful packing.
3, Shipping time,
--The usual shipping method for drop shipping is by China Post Air Mail, it is very cheap, but, very very slow, maybe a month... and unsafe, without tracking info update.
--For wholesale bulk baby shoes, we ship them by international express, shipping time 3-10 days for different areas, safe and fast.
Our factory do not supply drop shipping service, since we do not have many baby shoes in stock, all of them are new producing.
However we still welcome small quantity orders or those customers who own new starting business which can not afford large amount one time,
For these orders, customers can try our stock baby shoes, or small MOQ baby shoes styles.
Any helps please kindly contact us .Thank you : )