*********
Many parents always want to give their babies the best , the first important is to give their first step comfortable & protective.
so what kind of shoes are the best ?
1. Soft & comfortable & Breathable :
As we know, General leather material is soft enough for babies, and will not hurt their tender skin.
2. Lighted & easier to walk :
Especially for babies during 0-3 years old, they have no great power to walk with a pair of heavy shoes, so light shoes can help them walking with pleasure.
3. Hard-wearing.
We all know the baby's exploring for desire is very strong, they always want to find something new and try different attempts,
so shoes for babies should be more hard-wearing.
4. The most important is, Healthy & ECO-Friendly.
All our leather materials are tested ECO-Friendly, below is our testing report for ref.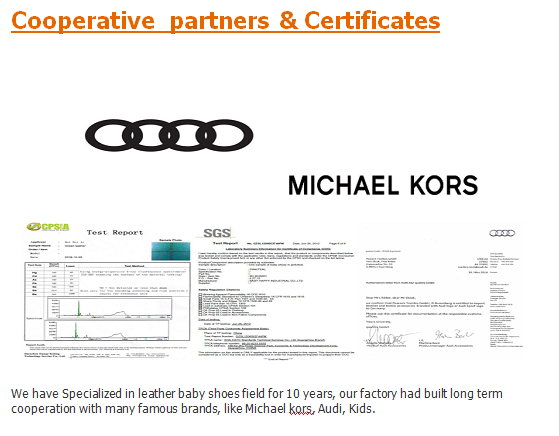 Some Hot Sale styles for your ref. :